The journey from early-stage business idea or new technology to commercial viability is difficult and market realities have proven that no innovation, no matter how profound its potential, is a guaranteed success. Over the past 15 years, the Research Contracts & Intellectual Property Services (RCIPS) Office has put in place several measures and interventions designed to ensure that ideas and inventions coming out of UCT have the best possible chance to make this journey successfully.
The office measures and accounts for disclosures, patents, spin-outs and income, because they are measurable and comparable to available benchmarks that give an indication as to whether the investment in innovation is worthwhile.
The 2008 Association of University Technology Managers (AUTM) figures suggest that, in the USA, there is, on average, one disclosure for every US$2.9 million invested in research. Berneman (quoted in Australian Research Council, 2002, p43) has, on the basis of 10 years' experience in the USA, developed "cascading tiers of performance" called the funnel effect. If UCT's statistics from 2007 to 2013 are benchmarked with research income of US$602 million, its performance turns out to be in line with the AUTM/Berneman norms.
However, innovation and technology transfer are about more than just counting the numbers. Rather, they are about the university and the impact on and benefit to society.
This is reflected in UCT's draft Innovation Policy, which describes the objectives as:
To make it easier and more affordable to engage with the university – both for the community and for business;
To facilitate the use and commercialisation of research for the public good;
To promote economic growth and community development;
To forge closer ties with industry and the community;
To recruit, retain and reward staff and students;
To deliver graduates that are socially engaged, critically thinking entrepreneurs;
To generate a third stream of income for the university.
Two recent initiatives, the Solution Space/Workshop 17 at the Graduate School of Business and the School for Design Thinking, are evidence that we are already working towards these objectives. Workshop 17 is an innovation hub modelled on the world-renowned Massachusetts Institute of Technology (MIT) Media Lab in Cambridge, Massachusetts, in the USA (see more).
The establishment of a School for Design Thinking is currently in a conceptualisation phase. The design thinking concept is based on the conviction that true innovation can only take place when strong interdisciplinary groups decide to create a common culture and then research the interface of differing opinions and perspectives.
A further initiative in 2013 was the establishment of a local branch of the international Café Scientifique concept. The aim of Café Scientifique is to encourage more informal discussions around science, engineering and innovation and encourage broader interaction with society, as well as to tell the real stories that affect the UCT community, such as new vaccines, better diagnostics and new medical devices.
Considerable work needs to be done to position intellectual property before it can actually leave the university's front door and attract larger-scale funding or be commercialised. A major gap in this area has been filled by the introduction of the Technology Innovation Agency's seed-fund initiative that makes funding of up to R500 000 available per project, in preparation for larger-scale commercialisation support. UCT's first call drew 21 applications, of which nine were supported.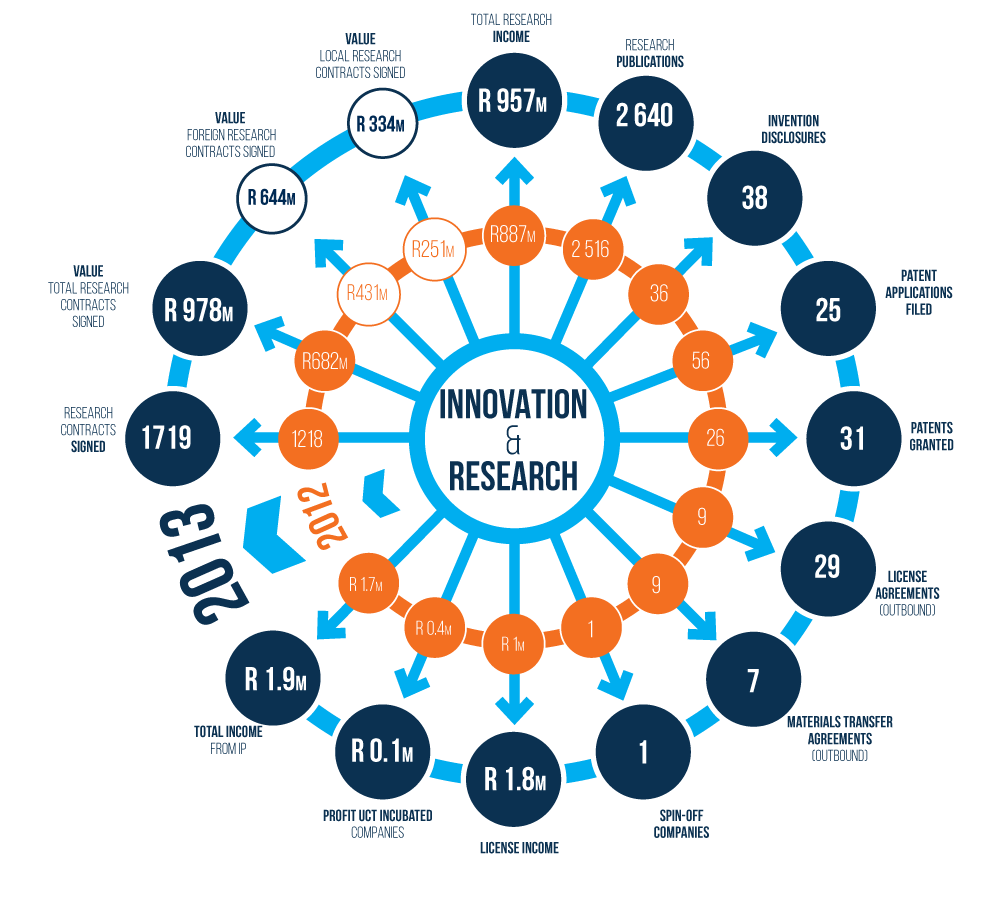 Another major injection was a commitment of close to R10 million over four years from the National Intellectual Property Management Office. This support not only makes possible the appointment of new staff, but also allows UCT to conduct techno-economic modelling on specific patent portfolios and strategic reviews of research groups. Techno-economic modelling assesses the economic viability of a process at full commercial scale and considers the impact of varying production levels or key conversion parameters to test sensitivities to particular stages of the overall process. This can focus further research and development efforts on critical components. The modelling looks at manufacturing plant equipment costs as well the cost of raw materials. Often a process performs very well from a technical/academic perspective, but manufacturing via that route would be too expensive.
UCT has seen increasing activity around spin-out company formation and a number of ventures are being incubated. It is also becoming clear that these companies provide other valuable ingredients: they act as "commercialisation" vehicles that channel ongoing research outputs. They also provide feedback on new needs that inform research strategy and direction. Most importantly, they provide jobs for specialised, highly trained graduates in South Africa, growing the country's technical capabilities and preventing the loss of these assets to opportunities overseas.